A book recently came into my possession that was suggested on a Civil War podcast station. They said that "Fighting for the Confederacy" by Edward Porter Alexander was a great companion text for any Civil War enthusiast who wanted to get an officer's view of battles in Virginia. I expected it to be something similar to "Company Aytch" or "All For The Union", which were memoirs written by privates. But Alexander's book did not disappoint! Not only was it written by someone who was there, adding his own flourishes and testimonies, but he had done his own research after the war to give a thorough account of the battles. I'll be referencing his book frequently in my later posts.
For now, I'd like to share his experiences from the first major engagement of the war. Serving as a signal officer on General P.G.T Beauregard's staff, Alexander had an excellent view of the playing field and was witness to the buildup and aftermath at Manassas.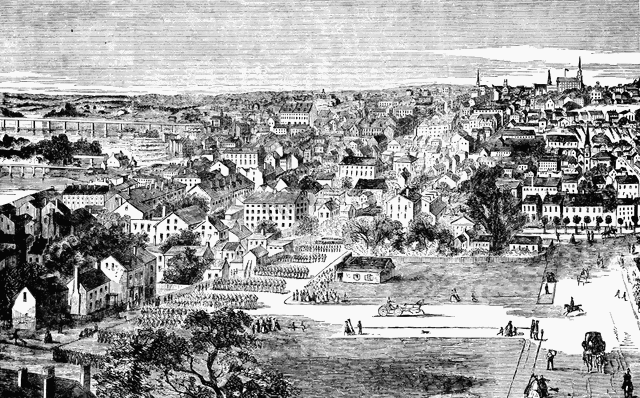 In early June, Alexander arrived to the bustling capitol of the Confederacy to await his orders. He had already been commissioned as a captain of engineers, dating from his resignation with the U.S Army.
"Richmond however was far from dull, for troops from all over the South were arriving every day and resigned Southern officers out of the old army were coming in from every territory, and camps of instruction were formed near the city where raw troops were drilled, loose companies appointed and assigned, arms and equipment were issued, and as fast as any body was organized and equipped it was sent forward to [Norfolk, Yorktown, Fredericksburg, Manassas, Winchester, or somewhere in West Virginia]."
After some delay, Alexander was given his orders to serve as an engineer and signal officer under Beauregard and ordered to Manassas. About July 1st, he arrived and was given a room at Beauregard's headquarters. "General Beauregard and his staff occupied a good sized two story house among some trees about 100 yards northwest from the railroad station at Manassas… In fact I think General Beauregard had more courtesy of manner than any of the other generals with whom I ever served."
Alexander's first duties were to organize and instruct a signal corps, as well as study the topography of the area where he knew a battle would be fought. In his book, he includes sketches of his mapping and gives wonderful detail about the terrain and how adequate it is for the armies. Because of his survey, it wasn't lost on him or the rest of their staff that McDowell was gathering his army on the other side of Bull Run. "Infantry could find places to cross in almost any locality and there were several farm fords and roads along the line. The principal of these was called Mitchell's Ford, at which a country road from Manassas Junction to Centreville crossed."
While they were waiting for the larger Federal army to mobilize, Alexander stumbled upon a neat coincidence that I've only heard of once before. His wife's aunt was a widow and had remarried a man by the name of Wilmer McLean. Later in the battle, Beauregard moved his headquarters to be closer to Blackburn's Ford along Bull Run, to a farmhouse owned by the McLeans about half a mile to the rear of said ford. Knowing the family, Alexander said, "I frequently called on the family, and took some meals with them and knew them all very well. The house, with all the usual farm outbuildings, kitchen, corn-crib, stables, servants' houses, etc. with quite a lot of shade trees occupied a large knoll in the midst of corn fields and pasture lands stretching on all sides for several hundred yards and down to the creek with its border of high timber."
What's interesting and ironic about this is that the McLeans leave Manassas after the battle and move to Appomattox. See where I'm going with this? In April of 1865, Alexander runs into the family again and asks his relative, "What are you doing here?" McLean answers, "Alexander, what the hell are you fellows doing here? I stood it on Bull Run till, backwards and forwards between you, my whole plantation was ruined and I sold out and came way off here over 200 miles to this out of the way place where I hoped I never would see another soldier on either side, and now look at this place!"
In Mr. McLean's house is where Grant and Lee signed their surrender agreement at the close of the war.
Now, back to 1861. Often, Alexander gives his opinion on how the battles and engagements were conducted and he makes an interesting observation. "Neither of us played the game as well as it might have been done… So the 'grand strategy' of the campaign, as these preliminary movements may be called, was not specially brilliant on either side." He says this for a few reasons. McDowell took his time getting his army into place, which gave away any chance of surprise or advantage beyond the sheer size of his army.
But, it also gave a chance for some things to move into position with the Confederacy. Johnston wasn't apt to leave his place in the Shenandoah. Beauregard, knowing that his addition to the fight would help tremendously, didn't have the authority to order Johnston away. He had to badger President Davis to give the order, who was reluctant to give it in the first place because of the critical importance of the back entrance into Richmond by way of the Shenandoah. Finally, after sending all but smoke signals and carrier pigeons, Davis gave the order and Johnston arrived just in time to play a role in the fighting. "And the fault on both sides lay I think in each not having one commander in chief over both armies, with authority and power to handle both as one without waiting to explain to, or convince any body."
Despite this, Alexander said of Johnston, "I think General Joseph E. Johnston was more the soldier in looks, carriage, and manner than any of the other generals and in fact more than any man I ever met." Later in the war, Alexander becomes better acquainted with Johnston and even shares a room with him in Williamsburg the following year, taking a few fencing lessons in the meantime.
He also makes a fairly accurate analogy for the fighting style conducted in these first engagements. Up until now, the typical behavior in battle has been this sort of "fire and fall back" strategy. He likens it to someone who wants to pick up a hot piece of iron, but doesn't know how hot it is. He'll test it by picking it up and dropping it a few times to see how much he can stand. "The men were strongly disposed after firing a volley to fall back a little to load, and officers getting a fair amount of success in a fight were slow to risk that in hope of greater." Later he says, "In fact the making of 'veterans' is simply getting over the feeling of that impulse. It only comes – like most of mankind's fears – from ignorance and imagination… When familiarity with parallel conditions had inspired confidence veterans almost learn to despise the dangers and to love the excitement of braving them."
This becomes illustrated in the situations upon Bull Run's banks when the Confederacy did not pursue the enemy when they had the full chance to.
The first time was on the 18th when the Federals made a demonstration at Blackburn's Ford. Alexander had taken up a chair from the house to sit and look through his spyglass upon the banks. "I watched with interest while they loaded one gun, aimed directly at us and then fired the first hostile shot I ever heard. It howled about 40 feet directly over our heads and struck in the cornfield behind us… the second shot fell short about 100 yards, striking in a peach orchard."
In the course of this engagement, a shot was fired through the kitchen where the servants were just dishing out dinner. No one was hurt except for the dinner. "Our dinner was ruined by the mud daubing between the logs jarred out as the shell passed through both walls, falling into the sliced up meat and dished up vegetables and we went without dinner that day."
When the fighting was over and the Federals driven back from the ford, Alexander reflects, "The effect of the fight was decidedly I think to encourage our side and to brace them up… McDowell lost his best chance of all in not attacking boldly and persistently at the earliest possible moment that he could."
On Sunday morning, July 21st, Beauregard orders Alexander to his high central station at Wilcoxen's Hill – now called Signal Hill – and to keep a sharp eye, always keeping his couriers with him and to report about any enemy movements. As history will tell, McDowell takes his forces with the intent to hit the Confederate army upon its rear flank, and moved them across Sudley Ford. All the while, keeping up some fire at Stone Bridge to distract them from the true movements. Alexander was one of the first to catch onto the plan.
"And while looking at them, as well as I remember about 8:30am, suddenly a little flash of light in the same field of view but far beyond them caught me eye. I was looking to the west and the sun was low in the east, and this flash was the reflection of the sun from a brass cannon in McDowell's flanking column approaching Sudley Ford. It was about 8 miles from me in an air line and was but a faint gleam, indescribably quick, but I had a fine glass and well trained eyes, and I knew at once what it was. And careful observation also detected the glitter of bayonets all along a road crossing the valley, and I felt sure that I was 'on to' McDowell's plan and saw what was the best part of his army."
Alexander instantly sent word to Beauregard and Johnston, who received the news from Nathan Evans near the Stone Bridge of the same scheme. Forces were moved and Alexander was in the perfect position to watch it all. He was also present for the moment when Johnston and Beauregard charged onto the field to take more direct command. "Johnston, if I remember right, particularly went in with the 4th Alabama, a most excellent regiment. Beauregard had his horse killed under him and so I think did Ferguson and Chisolm of his staff."
Though he wanted to join the fray, Alexander stayed at his post and watched the battle unfold. "I was able to form a fair idea of the enemy's progress by those clouds rising above the fields and low woods, and I could see that for some hours they had made practically little progress, though the fighting had with some lulls and swells gradually grown hotter."
The fighting advanced to Henry House Hill, Griffin and Ricketts batteries were taken, and the Federal retreat began. I like that Alexander doesn't just include his own recollections or solely the reports from Confederate officers, but also does some digging into the Federal testimonies of the engagements. About the retreat, he writes, "One Federal account, which I saw, laid the whole business on a fat lieutenant who began to run and was followed at first by one or two, and those by others till everybody had to join in."
In the aftermath of the retreat, Alexander jumped upon his horse and started for the field. "Crossing a small creek near the Lewis House I came on a number of regimental hospitals. It had been a beautiful grassy meadow and shade trees on the edges. There were now perhaps a hundred dead and six or eight hundred wounded lying around in sight as I went by."
In the rout, Alexander was given orders by Beauregard to relay to General Kemper to follow the enemy, but not to attack unless he had a decided advantage. Along the way, he encountered a situation involving a Colonel Cash – notoriously vicious, and especially on this day – and a Yankee Congressman who had wandered onto the field in the panic of the retreat. The Congressman, Mr. Ely from western New York, "had come out with quite a party of congressman and others in carriages to see the fun." The civilian was taken prisoner, of course, and sent to Richmond where he was later exchanged and released.
Alexander, like Corporal Elisha Hunt Rhodes, remembers the chaos at Cub Run, but a little differently. "I gave my message [to Kemper], took a good look at the enemy and all around and started back. Within a hundred yards Kemper passed me going up at a fast trot. He went into action and almost his first shot killed a horse at the entrance of Cub Run Bridge. This partially blocked the road and made a panic among the Federals. Drivers of artillery, ambulances, wagons, etc. abandoned their vehicles, cut out their horses and took to flight… The enemy abandoned at that place their big gun, Long Tom, and about a dozen other guns and a number of caissons, battery wagons, ambulances, etc."
A few more quotes from his book on the situation at Manassas after the battle.
"I recall a few sights. The body of poor old Mrs. Henry, very old and bed ridden, lay in her bed struck by one cannon ball and about three musket balls. The house was riddled from every direction… Nearby were abandoned 12 guns of Griffin's and Ricketts' batteries with nearly every horse killed."
"Not far off to the right I saw a pile of three of the Hampton Legion killed by a solid shot. One of them had his arms raised and extended exactly as if he were aiming his musket. The shot had passed through his body from side to side just below his arm pits. Evidently he was aiming when struck, for had his arms been down they would have been cut off. It would seem as if the shot not only killed but stiffened at least the muscles of his arms in the positions in which they were."
"As I rode by one of the 'Louisiana Tigers' of Wheat's battalion was going from man to man stooping over each one. He had doubtless caught on to the fact that dead men's pockets sometimes had money, watches, and other valuables in them, but he had the decency to pretend that he was searching their cap boxes for caps as I came near him. I knew he was lying but I said nothing."
"It is customary to say that 'Providence did not intend that we should win,' but I do not subscribe in the least to that doctrine. Providence did not care a row of pins about it. If it did it was a very unintelligent Providence not to bring the business to a close – the close it wanted – in less than four years of most terrible and bloody war… But it was a weakness to imagine that victory could ever come in even the slightest degree from anything except our own exertions… But we deserved to win for we stood many hours before a largely superior force and our raw men had behaved like veterans and had put up an exceedingly handsome fight."
Resources:
Alexander, Edward Porter (1989) Fighting for the Confederacy – The Personal Recollections of General Edward Porter Alexander. University of North Carolina Press (Pages 37-59)