There are two impressive monuments upon the Manassas Battlefield – in my humble opinion. Now, there are quite a few of them. Memorials and plaques abound across the national park. But I'm talking about two that stand out to me, as an amateur historian and battlefield trekker. The first is the monument to Thomas "Stonewall" Jackson. If there was any single event that would forever immortalize a man, it was that moment when Bernard Bee drew attention to the Virginia Military Institute instructor and his troops.
But the other monument, to me, is just as meaningful as Stonewall's. As you exit the visitor center, a two-story wooden structure is there to greet you atop the plateau where the Confederates and Federals fought in the summer of 1861. Back then, this piece of land was known as Spring Hill Farm, but we know it today as Henry House Hill. It was here that the widow Judith Henry became the first civilian casualty of the Civil War.
To understand the significance of this house, you have to trace its history – and its occupants' history – back all the way to the Revolutionary War days. Judith Carter was born 1776 into an old Virginia family with an illustrious history. Her great-great-grandfather, John Carter, was the first of her paternal line to reside within the "old colony" and father to Robert "King" Carter. By the time of Robert's death in 1732, he owned around a thousand slaves and three thousand acres of rich farmland for his descendants to inherit. We frown and sneer upon this now, but back then it was a notable thing to have such holdings.
His son, Landon Carter, expounded upon these holdings and at one point had eight fully operating plantations across Virginia. One of which was called Sabine Hall built in 1734. It was upon this plantation in Warsaw Virginia, that his second eldest son, Landon Carter Jr., was born. However, having married three times and fathering nine other children, Landon Sr. had to divide his 50,000 acres up amongst those who would carry on the reputable Carter name.
About 2,823 acres bordering on Young's Branch of Bull Run River (sounding familiar yet?) were given to Landon Jr. and his younger brother, John Carter. This large tract of land from the Middle Bull Run in northern Prince William, eastern Loudoun, and western Fairfax counties were to be divided upon their father's death. Neither son wasted any time in establishing themselves. Landon Jr. built the plantation known as "Pittsylvania" south of the Young Branch, and John built "Sudley Manor" in Fairfax County to the north, both between 1760 and 1770. It's from Sudley Manor that the Sudley Road and Sudley Springs were named after.
Both sons became prominent and important figures in Prince William County. While Landon Jr. made his business in growing tobacco, his brother was reportedly not as successful of a businessman. According to Landon Sr.'s diary, the master of Sudley house was a constant source of displeasure to his father and embarrassment to the family. Given to drinking, gambling, and horse races, it's a wonder that a community had sprung up around Sudley Manor. In response to direct funding from the Carter family, a mill on Catharpin Run, hotel, blacksmith, wheelwright shop, store, and church sprung up by the mid 19th century.
Landon Jr.'s legacy wasn't as bold or long lasting as John's, but he was still able to leave hefty inheritances for his nine children. One of which was a daughter named Judith. While her brothers Moore, John, Charles, and Wormeley were given properties across Prince William, Loudoun, and Fauquier counties, Judith and her two other sisters were given annuities and slaves upon their father's passing. Born around 1776, She would have grown up on the Pittsylvania plantation and owning slaves was a typical part of running an efficient business, she would come to own.
In the early 1800s, Judith met a man by the name of Isaac Henry and married him in Loudoun county. Isaac was from Philadelphia and a veteran of the United States navy as a surgeon's mate, and then later as a surgeon himself. He served aboard the U.S. Constellation from 1797 until his resignation in 1800. It was just a couple of years later that he would marry Judith. He was about thirty years old, and she was just a little younger.
For the majority of their marriage, they lived close to her home county. It wasn't until around 1810 that he decided to take a break from his medical career and go into politics. He held a position in the Virginia House of Delegates in Richmond from 1810 to 1812. Judith and Isaac had five children. Landon, John, Ann, Ellen Phoebe, and Hugh Fauntleroy. Around 1817, the entire clan was moved to Philadelphia under the request of Isaac's father, but this didn't last long. By 1822, they were back in Prince William county.
It was in 1822 that they purchased the land and home on Spring Hill Farm, just a mile south of her childhood home of Pittsylvania along the Young Branch of Bull Run. Pittsylvania was now owned by one of her nephews, Edwin Carter and his wife Sarah.
The home seated upon the plateau of Spring Hill was built in 1812 by a man named Thomas King, and he sold it, along with 330 acres to the family on October 14, 1822 for $3,382. The original wooden-framed home was built upon a fieldstone foundation, and consisted of two rooms downstairs and two rooms upstairs, with an external chimney centered on the north gable. It would have been quite a cramped place for seven people.
Seven years after they purchased their home, Isaac Henry passed away at the age of fifty-eight. Left to care for her children, it's likely that Judith received help from the community and her family that lived so close to her now. Tragedy struck again in 1842 when her eldest son, Landon – no doubt named after her father – died of yellow fever in Florida while fighting the second Seminole war.
By 1852, things were looking up again. The Manassas Railroad was completed, connecting their little settlement to Richmond. Prosperity came to neighboring towns like Sudley, Gainesville, and Groveton. It was this new hub of trade that would spell disaster for the families in the early 1860s.
War came to Judith Henry's backyard. By the summer of 1862, Judith was now about 85 years old and made an invalid by her age. Ellen, her daughter aged 54, lived with her at the time and her youngest son Hugh came and went to watch after them both. Hugh was a teacher in Alexandria and frequently tutored some of his students during the summer. It's presumed that on July 21st, Hugh was with one of these students. But his brother, John, had come down from Loudoun to visit for the day in his stead. Also in the house was a hired colored hand by the name of Lucy Griffith. Lucy had been leased by Judith from Alexander Compton, a neighbor who served as the wartime minister of the nearby Sudley Methodist Church.
On the morning of July 21st when Beauregard and McDowell began their cannonade exchange, the boom of the artillery fire would have been heard all the way to the Henry House. John and Ellen's main concern was getting their mother to safety. Their first choice was to take her to Robert Lewis' home, "Portici", which was less than a mile south-east of Spring Hill Farm. But as the movements of the army began to close in on their property, that option was out. Instead, they took her to a spring house just south-west of Judith's home. Here, there was a depression in the ground and it was presumed that it would be safer. But the elderly woman demanded to be taken back to her home. The spring house was deemed just as dangerous of a place as her own home, so they granted her wish.
The only problem was that her beloved home, which she bought with her husband about forty years prior, had become overrun by Confederate sharpshooters. They used the rooms upstairs to snipe out the encroaching Union troops.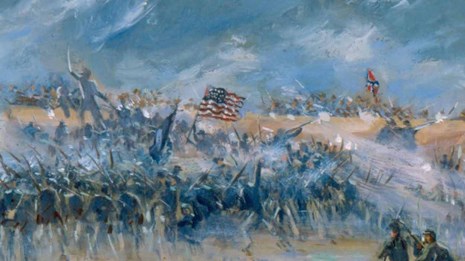 That afternoon, Union batteries were ordered up to combat Jackson's artillery that had been pummeling their lines. Ellen took refuge in the fireplace on the first floor and was said to have suffered some hearing loss due to the deafening roar of the cannons. Lucy was hiding under Judith's bed upstairs. It's not known whether John was in the house or outside of it. Ironically enough, Alexander Compton Jr., son of the Sudley preacher whom Lucy was being leased from, had just joined Company C of the Virginia Eighth Infantry, calling themselves the "Evergreen Guards" (and after the battle, the "Bull Run Rangers"). He, among many, were fighting on their home turf and would have been familiar with the old Henry House.
James Rickett recognized the disadvantage this house played against him during the battle. He ordered his battery to fire upon it to eliminate the threat of the sharpshooters that had taken cover inside. A ten-pound shell burst through Judith's room, shattering her bed and throwing her to the floor. She sustained injuries to her neck and side, and her foot was blown off (some sources word it as "nearly" blown off). Because of her age and the extensive nature of her injuries, Judith died later that evening. After the battle, an old man came near to the home and found another man prostrate on the ground. It was John, grieving over the death of his mother. Judith Henry became the first civilian casualty of the Civil War, and the only civilian casualty of the first battle at Manassas Junction.
The desecration of the Henry House didn't end after the battle. The house, despite being barraged by Union cannon fire, was mostly intact by the time McDowell's army fled across Bull Run River again. The ruins of the house were further dismantled for firewood and keepsakes from the battle. It was believed by many that this would be the only deciding battle of the entire war and the south had officially won its independence. Little did they know that the fighting would continue for another four years.
On June 13th, 1865, Union veterans would come back to their former battlefield to dedicate a monument to the troops who fought and died on that ground. They chose a spot adjacent to Ground Zero of the Henry House. This became the first Civil War
monument erected. In 1870, a new house was built overlapping the former foundation. It retained its two-story, gabled structure, but by 1883, an addition was added onto the house opposite the fireplace on the north side. This added a room downstairs, upstairs, and a cellar. While I can't imagine that the Henry family was happy about the Yankee monument in their backyard, I tip my hat to their shrewdness. By the 1890s, they were charging admission for tourists to come and see the house and monument, as well as Judith Henry's grave which is situated on the other side of the house from the monument. In 1922, the house was permanently taken off the Henry's hands. The Sons of Confederate Veterans purchased it and turned it into a visitor's center for the battlefield. Less than twenty years later, the house was donated to the National Parks Service, and is now visited by thousands of people each year.
Henry House wasn't the only home to be affected by the war. Pittsylvania, Judith's childhood home, was used as a field hospital by Union troops. It was known as the "brown house" by its temporary tenants for its dark-brick painted wooden structure. In August of 1862, Pittsylvania would not be so utilized. After the Federals were defeated a second time on the same ground they failed to take the year before, the home was set ablaze. Edwin, Sarah, and their family were forced off their ancestral property. In an 1870 census, it's recorded that Ellen, Judith's daughter, was living with them and helping to keep house. The land was purchased from Edwin in December 1865 by Henry P. Matthew for $472. This included the remains of the burned-out home and about 94 acres of land. The surrounding area would become known as Matthew Hill. Inevitably, the property was acquired by the National Park Service for preservation, as it played a role in both Manassas battles. All that remains today is a brick-enclosed cemetery with grave markers dedicated to Edwin, Virginia (Edwin's sister), Isaac Henry, and Landon Carter Jr.
Further north along Sudley Springs, the land that the Carter family had invested in almost a century ago did not escape the poisonous touch of war. The Sudley Methodist Church and Thornberry House nearby were used as field hospitals, just as Pittsylvania was. But by the end of the war, the properties were in a state of disrepair. But the small community experienced a revival in the 1870s, just as Judith Henry's old home had. A Pennsylvanian named Andrew B. Fetzer, restored the mills and resumed operations in 1875. Sudley Springs Hotel reopened in 1871. The Thornberry residence became a post office after the war. The blacksmith shop resumed operation, and two stores were back in business just around the same time. This revival didn't last long, however. In the span of just a couple of decades, Sudley Springs was back to square one again. The Depression of 1893 forced the hotel to close and it burned in the early 1900s. The Sudley Springs Post Office closed about the same time as tourism declined in the area. Fetzer's mill closed in 1910 and was dismantled in the 1930s. Carter's Sudley Mansion became dilapidated by the early 1900s and was dismantled like everything else. Struck by lightning in 1918, Sudley Methodist Church where Alexander Compton had preached, burned down and was rebuilt in 1922. The only other surviving structure is the Thornberry House, which lies at the northernmost tip of Manassas Battlefield Park, and owned by the National Park Service.
In recognition of Henry House, the American Civil War Museum in Richmond has recently reopened and part of their self-guided tour features a recreated section of Judith Henry's home as it might have looked during the battle at Manassas. The entire museum has taken on a new look of "fragmentation" to illustrate the dividedness that this country suffered during the Civil War. "The Henry House is meant to represent that frozen moment in time when everything changed for the country. The people saw the horrific causalities and realized what was about to unfold," said Cynthia Torp, president of the exhibit design company Solid Light.
Resources:
Robert "King" Carter
Colonel Landon Carter
Landon Carter
Judith Carter Henry
Isaac Henry
Edwin Carter
Ruins of Judith Henry's House
Library of Congress – Henry House
Wikipedia – Henry House Hill
National Parks – Death of Judith Henry
Civil War Wiki – Henry House Hill
Judith Carter Henry at the Crossroads
Brief history of Sudley community
Manassas National Battlefield Map
Article About New American Civil War Museum https://www.encyclopediavirginia.org/Carter_John_ca_1613-1670#start_entry