When one thinks of Civil War nurses, the name Clara Barton will come screaming from every corner of the internet and historical archives. However, just as Gettysburg, Antietam, and Manassas dominate the bulk of Civil War military history compared to Shiloh and Vicksburg, so Miss Barton overshadows one remarkable nurse in the western theater.
Kate Cumming was a passionate and devoted caregiver during the war. She was also a dedicated diarist, recording her experiences as a nurse daily.
Born in Edinburgh Scotland in 1830, she was just in her 30s at the onset of the war. When she was a child, her and her family moved to Mobile Alabama. Her love for her home country of Scotland, though she claims she doesn't personally remember much of it, flavors her diary entries. In the introduction to her published journals, she makes the astute comparison between the unionization between England and Scotland, and that of the North and the South.
"The two nations from that time were united in all save the name… Many years have elapsed since that union. Is a Scotchman to-day an Englishman? Or, vice-versa, an Englishman a Scotchman? All know they are as distinct in nationality as the first day they were united. Where is there such a union of harmony? Not on this earth."
This theme of "the south cannot be reconstructed" continually shows up, especially in the first collection of diary entries when she nurses captured Federal soldiers after the battle at Shiloh.
While her mother and sisters fled to England at the onset of the war, Kate chose to stay in Alabama with her father and brother, who were soon enlisted.
On the second day of the battle at Shiloh (April 7th, 1862) Katey left Mobile with an Episcopal Reverend, Mr. Miller, and a group of Mobile ladies. They took the Mobile and Ohio railroad with Corinth as their destination. It was only twelve miles from Shiloh and the call for aid rang out through the Confederacy as the wounded and dying were pouring in. It was the bloodiest battle of the war up to that point with the highest casualties this country had ever seen. Kate later recounts about this disorganization and says "But I suppose that allowance must be made for the unexpected number of wounded. I trust that in a little time, things will be better."
As a result, confusion and disorganization was everywhere. Kate and her party were even barred from Corinth for a few days due to a miscommunication in orders. No one was allowed in Corinth without a special permit from headquarters. Forced to stay with the Haughton family in Okolona since there were no hotels, this was not the best start to their mission of mercy. The weather in early April wasn't great, and the rains that had tormented the soldiers before and during the battle, also affected Kate in Okolona. Everything was muddy.
By now, the only exposure Kate had to the horrors of war were from a distance. Railcars of wounded passed by on occasion, but soon she'd get hands-on experience. She had never even been near a large army.
On April 10th, they were cleared to go to Corinth. Okolona was still a good sixty miles from their destination. Kate remarks in her diary that "This [Corinth] is a very wealthy portion of Mississippi, and food of all kinds seems to be plentiful."
Kate's journey was slightly delayed as one the ladies of her party fell ill just before they were scheduled to depart. She and Miss Booth arrived in Corinth on the 11th. "As far as the eye could reach, in the midst of all this slop and mud, the white tents of our brave army could be seen through the trees, making a picture suggestive of any thing but comfort."
She'd see worse in the two months to follow.
Many of the buildings in Corinth had to be commandeered for makeshift hospitals. Though Katey visited and served in a few during her stay in Corinth, her primary station was at the Tishomingo Hotel. Yellow flags flew from the top of each hospital. One was the College Hospital, once an all-women's college in Corinth. Churches made perfect places for hospitals. Other establishments like farmhouses in and around the hilly countryside were also utilized.
Inside the hospitals, it all became real for her. As Kate said, "Mrs. Ogden tried to prepare me for the scene which I should witness upon entering the wards. But alas! Nothing that I had ever heard or read had given me the faintest idea of the horrors witnessed within."
Men of all ages and statehoods of the Confederacy lay in cots and on bedrolls throughout the hotel hospital. Federals, too, were mixed in with the wounded, "so close together that is was almost impossible to walk without stepping on them." Due to the huge influx of casualties, soldiers were "lying all over the house, on their blankets, just as they were brought form the battlefield. They are in the hall, on the gallery, and crowded into very small rooms. The foul air from this mass of human beings at first made me giddy and sick, but I soon got over it."

Many doctors of the time were of the opinion that women should not be allowed to care for the wounded and dying. Some were not even allowed to visit. Back then, nursing was commonly accepted as the man's job, assuming that the feminine mind and temperament was too delicate for the grisly work. "I think as soon as surgeons discover that ladies are really of service, that prejudice will cease to exist. The patients are delighted to have us, and say that we can cause them to think of the dearest of places to them now – home."
However, men were also recruited from the armies to assist at the hospitals for a time. In Kate's humble opinion, "Nursing is a thing that has to be learned, and we should select our best men for it – the best, not physically, but morally – as I am certain that none but good, conscientious people will ever do justice to the patients."
But mostly, Kate and her colleagues did what they could just to make the men comfortable. Every day, they cleaned and redressed wounds, washed faces, read to the soldiers, wrote letters to their loved ones on their behalf, and did their best to keep an orderly environment. Their work was never done, and Kate remarks several times how there was scarcely time to eat, rest, or sit down. "I can not see what else we can do, as the war is certainly ours as well as that of the men. We cannot fight, so we must take care of those who do."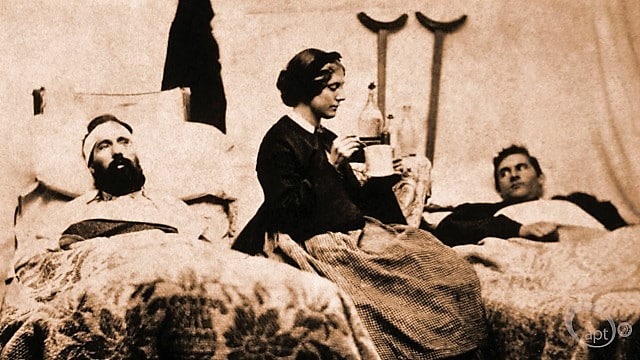 Day in and day out, Kate treated soldiers who were either shipped back off to join the armies, or died from their wounds. Amputations were especially deadly in their hospital, as many died after the procedure. The severed limbs were then often just thrown outside in a pile to rot. To have an arm or leg amputated might as well have been the end for any soldier, but there were cases of men hemorrhaging after refusing amputation. Damned if you do, damned if you don't. Kate would due her best to avoid the amputation room, even though she had to walk past it almost every day.
While there's much misconception about Civil War medicine, saying that amputations were ghastly, brutal, and done without anesthesia, this was not the case. Early in the war, pain killers like morphine were available and sometimes used in excess, as in the case at Corinth in Kate's hospital. "Much of that is administered; more than for their good, and must injure them. I expressed this opinion to one of the doctors; he smiled, and said it was not as bad as to let them suffer."

Conditions at the hospitals improved as they got into the swing of things. Once Dr. Smith took over at Kate's hospital, the grounds and facilities were cleaned up substantially. The pile of limbs was promptly done away with. However, the railroad was often blamed for the worsening conditions of soldiers who were not transported quickly, or like in one circumstance, were simply abandoned in their railcars near the hospital without telling anyone.
Disposal of the dead became a little more difficult later during her service due to the fact that the Federals destroyed the factory where coffins were manufactured.
And sometimes, their own system got in the way of treating the sick and wounded. "We have the same sad scenes to witness as ever – sick and wounded men lying on the platform at the depot, night and day, and we are not allowed to take them any thing to eat. Dr. Smith is obliged to prohibit it, as it is contrary to orders, and he has not the food to spare them."
But the weather could also be blamed for much of the sickness. Through April and May, interchanging periods of cold and rainy weeks were punctuated by warm, sunny days. This could probably account for some sicknesses amongst the non-combatant individuals in the hospital. They also might not have been educated about germs and
cleanliness, which would certainly spread diseases. Many of Kate's friends were sent away from Corinth or back to Mobile when they fell ill during their time there.
Nurses and doctors alike ate in the kitchen of the hospital, which was less than clean, but when one's hungry, a little dirt didn't seem to matter so much. When she wasn't tending to her patients, she wrote in her diary about what she witnessed each day. Some entries are short, stating that the cannonade from farther north on the battle lines "made her little good for anything."
Nurses all had their different way of doing things within the hospital. Some tended to one soldier and one soldier only, tending to their every need. Others, like Kate, kept several patients at a time. In some cases, she would need to tend to a captured Federal officers or soldier. And though Kate's prejudice toward northern aggression was intense, she made her case that "Seeing an enemy wounded and helpless is a different thing from seeing him in health and in power. The first time that I saw one in this condition every feeling of enmity vanished at once."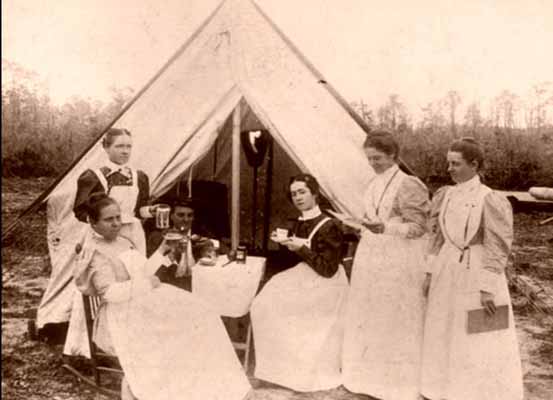 Some nurses were in the service to truly help their soldiers, knowing that if their husbands, brothers, or fathers were in the same situation in the north, they would want someone to care for them as well. Others were slightly less devoted to the cause and more devoted to themselves. Katey tells a story about one widow who was told that she needed to "catch a new beau" and therefore went to Corinth. She said that she had never had a better time in her life than being surrounded by dying soldiers. That nurse gained quite a few weird looks, and I don't blame them. Kate and her colleagues were surrounded by death every day to that point that they nearly became desensitized to it.
Still, in the midst of the darkness, Kate finds a light and purpose in what she does. "O, I do feel so glad that I am here, where I can be of some little service to the poor fellows; and they are so grateful for every little attention paid them."
Generals and commanders like Leonidas Polk, Earl Van Dorn and Sterling Price passed through Corinth during Katey's time there, and she could watch the army movements about the camp from her window. They continued to receive news about the war, including the capture of New Orleans, which enraged many of their Louisianan patients.
Federal soldiers were also a handful, and though Christian politeness ruled her behavior, Kate only wished them well so they could leave. Kate talked with many of the prisoners, endeavoring to make them understand the plight of the south and how the northern cause to restore the Union would never work. "No happiness can exist in union without concord and there can be no concord where any two people are so diametrically opposed to each other. All this I have repeated to them often, but I might as well have saved myself the trouble, for they are as blind to reason as any bigoted, self-deluded people ever were."

As a new assault was aimed for Corinth, the junction between two major railroads in the western Confederacy, preparations were made to evacuate all non-essential peoples from the town. This included Kate and her nurses. On May 27th, she and the ladies were packed up and ready to leave. While many went to Brookhaven, she intended to return to Okolone until she learned in which direction the army would move. Wherever she was needed, she would go.
"We have seen many sad sights and much suffering since we came to this place; still, I shall ever look back on these two months with sincere gratification, and feel that I have lived for something."
You'll hear more from Kate Cumming in other blogs, as she travels across the Confederacy from Corinth to Mobile to Chattanooga, and down into Georgia.
Further Reading:
"Kate: The Journal of a Confederate Nurse" by Kate Cumming
https://www.nps.gov/people/kate-cumming.htm
http://www.encyclopediaofalabama.org/article/h-1101